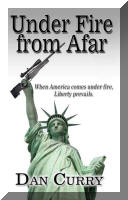 With the threat of another terrorist attack in the minds of all Americans, the author tells the story of how this threat could become fully realized. This time the terror group is an extreme Islamic faction based in Afghanistan which is currently occupied by US troops hunting for those responsible for the September 11th attacks.
The author follows a retired US Marine Sniper named Jed Marshal as he thwarts the terrorist plan to hold hostage many Senators and Congressman's families in the hopes of forcing congress to pull the troops out of Afghanistan. This is only after the terrorist deal a great blow to the nation by destroying four American cities.
The author also follows Jed's son. A Marine who begins his service in Afghanistan fighting against the terror organization, Ben is almost killed by the leader of the enemy combatants prompting Jed to take his revenge and bring the ordeal to its climax.
Go to our Where to Buy page to find out where you can get your copy!